Power Over Ethernet (PoE) is Ethernet-based technology which allows electrical equipment's to run on data cables instead of power cables
PoE Infrastructure
•The lighting industry has undergone its major transformation in the past decade by introducing high efficient energy lighting fixtures of LED for the application of commercial as well as residential markets. Another transformation is unfolding now which will totally revolutionize how we control lighting by allowing lighting systems to be part of the Internet of Things using the digital nature of LED technology to bring illumination & IT together.
•Internet of Things (IoT) is the central marquee of smart buildings where devices collect and provide actionable data about all other devices connected together to business owners or facility managers, thus allowing them to maximize energy savings while optimizing the space and affecting the productivity of employees. This intelligent data provides valuable information that was never available before and allows business to create connected applications and services that deliver new capabilities and value to their employees and customers.
•LED's are inherently low-voltage DC devices. To ensure compatibility with traditional AC power, most LED drivers for lighting use an AC-to-DC converter to convert the AC mains power to a lower DC voltage. This conversion process reduces system efficiency, so designers have proposed DC-based power systems.
• Although the energy efficiency of solid-state lighting has been documented, revolutionizing lighting today proves that POE technology brings networking and control advantages to LED lighting systems that AC mains power cannot provide.
• The industry faced a series of challenges that prohibited high efficiency, low voltage lighting solutions integrated into network infrastructure based on PoE. With the lack of such technology, POE fixtures were unavailable. LED Industries, Inc. put together a design and engineering team to develop and provide POE lighting solutions to cater to the growing needs of the POE market.
• Majority of LED Industries, Inc. fixtures are designed to be compatible with PoE without a driver, which makes them very desirable for PoE infrastructure. Our company specializes in architectural highly efficient interior LED fixtures which are fully powered through PoE. While being aesthetically pleasing and offering modern designs, they are also easily integrated into a network infrastructure based on PoE.
• Our product line includes architectural reassessed lighting, architectural linear lighting, architectural downlights, linear and round pendants, and wall washers to mention a few
Ethernet Cable
Eliminate the need for Certified Electrician amounts to a lot of saving and ease of installation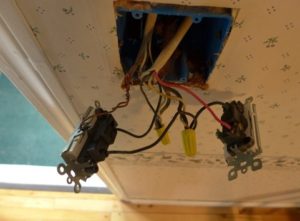 Conventional wiring
It is installed above the ceiling beside creating a mess it also costs a lot more than just pulling CAT-5 low voltage single plug and play
Advantages Of PoE
Specifying Power over Ethernet brings many advantages to installation and maintenance
Time and Cost Saving
By reducing the time and expense of having electrical power cabling installed. Network cables do not require a qualified electrician to fit them and can be located anywhere.
Flexibility
Without being tethered to an electrical outlet, devices such as interior light fixtures can be located wherever they are needed most and repositioned easily if required.
Safety
PoE delivery is intelligent and designed to protect network equipment from overload, underpowering, incorrect installation, and line voltage hazards.
Reliability
PoE power comes from a central and universally compatible source, rather than a collection of distributed wall adapters. It can be backed-up by an uninterruptible power supply or controlled to easily disable or reset devices.
Salability
Having power available on the network means that the installation and distribution of network connections are simple and effective.